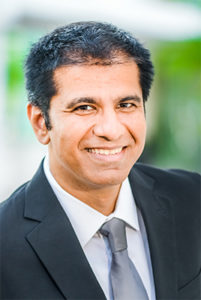 Dedicated to excellence in medicine and your personal care.
Dr. Ramchandani is a Board Certified OB/GYN physician with over 22 years of experience.
Dr. Ramchandani provides compassionate, evidence-based care for women's health issues including complete obstetrics care and deliveries, management of high-risk pregnancies, minimally invasive gynecologic surgery, pelvic support/prolapse issues, urinary incontinence problems, menopausal care, contraceptive options, as well as annual gynecological exams and preventive care.
Dr. Ramchandani obtained his bachelor's degree from Rutgers University, graduating with high honors. He earned his medical degree from UMDNJ - New Jersey Medical School in Newark, New Jersey in 1998.
He went on to complete a residency in Obstetrics and Gynecology at Temple University Hospital in Philadelphia in 2002 where he studied and trained under nationally recognized authorities in the field of Obstetrics and Gynecology.
After his residency, Dr. Ramchandani practiced in Corpus Christi, Texas for more than eight years and then in New Jersey for four years and Pennsylvania for two and half years and gained valuable experience during this time.
He has received numerous honors during his academic career, including being named Best Resident for Medical Student Education at Temple University Hospital, Excellence in Teaching Award from Temple University Hospital, and first prize at New Jersey Medical School's Student Research Symposium.
Dr. Ramchandani is board certified by the American Board of Obstetrics and Gynecology, and is a Fellow of the American College of Obstetrics and Gynecology.
Dr. Ramchadani is affiliated with Winter Haven Women's Hospital, Winter Haven Hospital and Bartow Regional Medical Center. Deliveries are done at Winter Haven Women's Hospital.
Dr. Ramchandani is welcoming new patients.